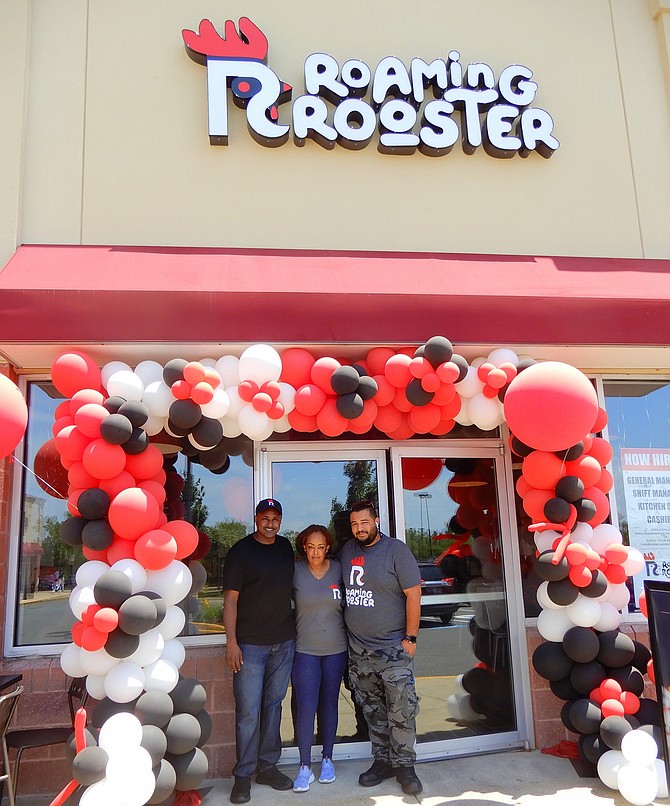 A steady stream of customers flowed through the door of Roaming Rooster on Friday, June 17 in the Chantilly Crossing Shopping Center off Route 50 and Lee Road. They came for the grand opening of this popular, new, chicken-sandwich restaurant – and they weren't disappointed.
"I got the OG Nashville, hot," said Adam Zaug of Chantilly's Franklin Farm community. "It's got a great level of heat that doesn't overpower the flavor. I've driven to Washington, D.C. before to get this. And I was actually emailing the owner, asking when this location was opening."
Adding he'd recommend Roaming Rooster to others, Zaug said, "If you like a classic, fried-chicken sandwich, this is the place to be. And they make their own fries, too."
His brother Al got the OG Nashville, too. "I liked that the spice had a very good flavor, and I loved the vinaigrette slaw inside the sandwich," he said. "It makes it complex and gives it a crunchy texture. And it's also a good-sized piece of chicken. I can't wait to come back. I drop off my daughter at dance, come here and get a sandwich and go pick her up again."
Enjoying lunch with the brothers was Chris Bartholomew of Centreville's London Towne community. He had the honey butter chicken sandwich, medium heat level. "It was my first time trying this restaurant," he said. "My sister went to the soft opening two weeks ago and told me to come here."
"I really enjoyed it," continued Bartholomew. "Besides the honey butter, it has cheddar cheese, so the sandwich had a mixture of sweetness, savory and heat. And I loved the fries because they're fresh-cut, skin-on and well-cooked. I'd recommend this place because they have a great variety of chicken sandwiches and even wings."
Roaming Rooster is owned by Conie Mesfin; her husband, William Biniam and his brother Mike. It's not a franchise, but a family-owned business. There are six locations in Washington, D.C., plus one each in Tysons Corner and Burke, and another will open in Manassas the end of this month.
So why Chantilly? "Our customers come from everywhere," said Mesfin. "We were looking for a place to open in this area, and we liked this shopping center – and it gets us closer to some of our customers."
What sets this restaurant apart from other chicken restaurants, she said, is that the chickens they use are never given antibiotics, are free range and halal – meaning they're prepared according to Islamic, dietary guidelines. Furthermore, said Mesfin, customers may choose the heat level they prefer in the buttermilk-fried chicken breasts in their sandwiches.
"They can choose from no spice to mild, medium-hot or extra-hot," she said. "The extra-hot is that way because of a different, spicy, but secret, pepper we add. Our best sellers are the OG Nashville and the honey butter sandwiches."
But that's not all they offer. There's also a Buffalo chicken sandwich with bleu cheese and Buffalo sauce, and a chicken club with applewood smoked bacon, lettuce, tomato and ranch dressing. Wings have the same flavors as the sandwiches, and chicken tenders and nuggets come with either homemade sriracha mayo or honey mustard. 
The chicken club salad is made with the same chicken that goes into the sandwiches. And customers choose their heat level for each entrée. Beverages are lemonade, iced tea, soda and water – as well as custard shakes that come in Oreo, vanilla, strawberry and chocolate flavors. And, said Mesfin, "We might add breakfast in the future; we'd serve eggs, bacon and chicken."
Roaming Rooster is at 14394 Chantilly Crossing Lane in Chantilly; hours are Monday-Sunday, 11 a.m.-10 p.m. Since its soft opening, June 3, Mesfin said business has been "really good, and we already have repeat customers. People are excited about our restaurant and tell us they really like our food."
And although several different places sell chicken sandwiches, Mesfin said customers should come to Roaming Rooster because "We cook with love and everything's homemade. And our flavors are unique because we use Ethiopian spices."
"Our hand-cut fries are very popular, too," added Director of Operations Dismas Nyakudi. "And we also have a catering menu where we serve sliders." To order online or to see the menu, go to roamingroosterdc.com. 
Proud of what the restaurant offers, he said, "The chicken we serve is all-natural and humanely raised, with no growth hormones. And it's halal because we care where the ingredients come from – we want the chicken to be nourishing and don't want to profit from suffering."
The Friday grand opening had a party atmosphere, with colorful balloons outside and a deejay playing music inside. But the main attraction was definitely the food.
Friends Brittany Noetzel and Lauren Little were getting their nails done nearby when they saw Roaming Rooster's sign and came there for lunch because they were familiar with it from Washington, D.C. Both had chicken sandwiches and fries.
"I had the honey butter," said Little. "I love the sweet and salty combination of the honey butter and the chicken. I got the hot chicken, and it was very tender and juicy – it's not a dry chicken sandwich. The slaw is vinegar-based, not made with mayo, so that makes it crisp, and I also like the jalapeño in it."
Noetzel chose the OG Nashville. "It's the best chicken sandwich anywhere," she said. "And it's not bland – they're not afraid to put flavor in there." Besides that, she added, "I like to go someplace local, instead of a big chain, because it's supporting a local business."